Personal Care Assistant And Companion Services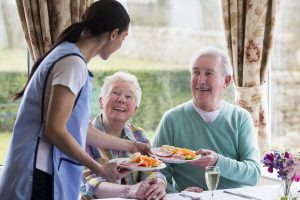 MEDICATION REMINDERS. Under or over medicating sends many to the hospital. PEAK Personal Care Assistants will ensure physician orders are followed so that the right medications are taken at the right time, by opening the bottle or pill box and ensuring dosage instructions are followed.
NUTRITION. There can be many reasons for poor nutrition or weight loss: Physical limitations or medical conditions may make standing at a stove or handling pots and pans challenging or unsafe. Medications may change the taste of foods or appetite. Planning and following a prescribed diet can be difficult. Difficulty handling utensils or being alone at mealtime can cause one to lose interest in preparing or eating a meal. PEAK can help by preparing nutritious food and providing companionship to make mealtime enjoyable.
MOBILITY. Physical changes or loss of strength may make moving around difficult, even hazardous. Reminders may be necessary to use a walker or cane or how to position feet or body. PEAK Personal Care Assistants help with mobility, encourage or assist with exercises, especially when prescribed, as well as maintaining a safe environment for fall prevention.
TRANSFERRING AND POSITIONING. Assistance moving in and out of chairs or bed can help prevent falls for the person with limited strength or poor balance. Regular repositioning in chairs or in bed is not only necessary for comfort but also to prevent skin breakdown and wounds caused by pressure areas as well as keeping an open airway for proper breathing.
HYGIENE. PEAK can make bathing safe by assisting in and out of the shower, assisting with bathing and hair care, and ensuring appropriate clothing with dressing assistance. Schedules   are dictated by clients' preference and performed with their health, comfort and dignity in mind.
INCONTINENCE CARE AND TOILETING. The need for toileting assistance, or "having accidents" can be embarrassing for both the client and family. PEAK's compassionate assistance can help maintain health and dignity by devising plans for toileting schedules to help eliminate accidents, especially important after a hospital or rehab stay.
SOCIALIZATION AND COMPANIONSHIP. Isolation can be the precursor to depression with illness following soon after.   Keeping someone engaged and mentally stimulated is not only important for brain function but also helps develop and keep a more optimistic outlook to provide a sense of purpose and a willingness to participate in daily activities.